Our Learning Improvement Grants help teachers increase student learning tied to district and state learning goals. Last year, Jeff Wilson of Meadows Elementary was awarded a $1,500 grant to use for "Innovative Teaching & Learning: Robotics/Coding" for his students! Way to go, Jeff!
Learn more about our LIG grants:
https://ntef.org/learning-improvement-grants/
The next deadline for submitting a Learning Grant application has been extended to May 15, 2019!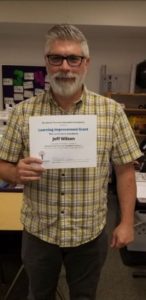 Jeff Wilson of Meadows Elementary School