Mulligans for Education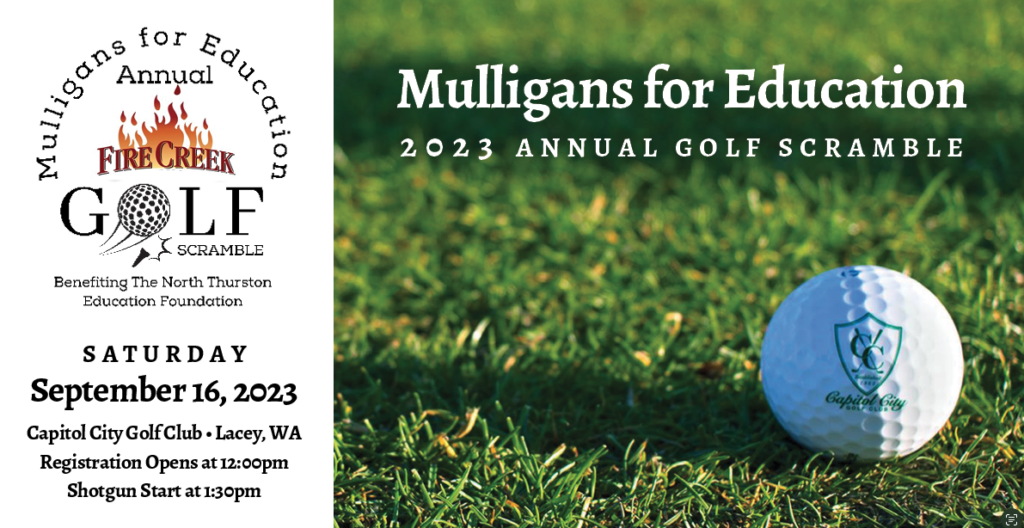 The community is invited to get a team together and join Firecreek and North Thurston Education Foundation (NTEF) for an afternoon of golf and fun at Mulligans for Education, 2023 Annual Golf Scramble on Saturday, September 16, 2023. All proceeds benefit NTEF's Student Assistance Grants, which support students with urgent basic needs.
The price for an individual golfer is $110. Registration includes Golf, Cart, Practice Green, Driving Range, Birdie Bag, 19th Hole Banquet Dinner and Awards following the tournament.
$25 Add-On Captain's Package: Includes Two (2) Mulligans per player and entry into all Longest Drive Contests.
Who: North Thurston Education Foundation
What: Golf Tournament
When: Saturday, September 16, 2023. Registration opens at noon. Shotgun start at 1:30 p.m.
Where: Capital City Golf Course, 5225 Yelm Hwy SE, Olympia, WA 98513.
Cost: $110 per person
Registration: Click here: https://portals.compass-360.org/Compass360WebUserServices08/org=ntef.org/eventId=701C6F94-4782-4F51-805F-818CD830F2BC/request=standard
Presented by FireCreek.