North Thurston School Counselor Profile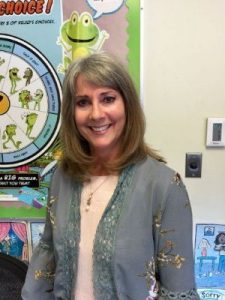 Over the coming year, we will share profiles of North Thurston Public Schools' counselors. Every day, the North Thurston Education Foundation partners with school counselors to make sure the immediate needs of our kids are met. We could not do our work without these amazing people!
Meet Debbie LaFever, Lacey Elementary School 
Debbie LaFever has 20 years of experience as a school counselor and has worked as Lacey Elementary's school counselor for 16 years. Here's what she has to say about her work with NTEF:
NTEF is a blessing to every school, including mine. There are so many times that students come to school in the morning with unmet needs and we begin a search for a resource to meet that need. You might have knowledge of Maslow's Hierarchy of needs and know that basic needs of safety, shelter, food, sleep, and clothing must be met in order for a student to even begin to focus on learning.
Time and time again, the funds that NTEF provides the school help to meet our students' needs. We have a first grader who has been living in a car or sleeping at the shelter who has been helped with clothing, parents who have been evicted with nowhere to go who have been helped with a motel room, families with resources so limited that they can't afford to rent an instrument for their student who desperately wants to be in the band and adults who lose a job and can't pay their rent that is due.
I have personally walked alongside students in heartbreaking circumstances over the years that have been lifted up by the help of the Foundation. I can't thank you enough for understanding that these are not bad people, but people just like you and me, who have fallen on hard times and need a helping hand and the kindness of a stranger to help them get back on track. I recently supplied a pair of noise-canceling earphones from NTEF foundation funds to a young student who cried every day because she had to go to the Boys and Girls club after school. The noise made her dread going, but the earphones completely turned her mood around.
Sometimes, it can be the simplest thing that helps a child to feel like someone really does care. Each student is a treasure and I am honored to be able to distribute funds from the generous hearts of those who contribute to the Foundation to those who are in need. It makes me love my job, even more, when I can say: "Yes, we can help you with that."
Thank you, Debbie, for your hard work and dedication to the students of North Thurston public schools!