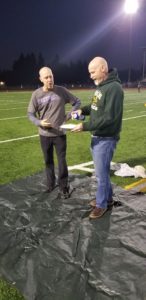 Last Spring, we ran a "Sponsor a Senior" Campaign. The Timberline High School Blazers and the North Thurston Rams were challenged to see who would be able to get the most donations for the "Sponsor a Senior" Program. Thanks to all of our donors, we raised close to $10,000!
The Timberline Blazers made a last-minute comeback and passed the North Thurston Rams by one sponsor! This goes to show that every donation does matter!
North Thurston Principal Nick Greenwell was a good sport and showed up to the Blazer/Rams football game on October 19th wearing his opponent's Timberline gear. He took a pie to the face from his good friend Paul Dean, Principal of Timberline High School!
Thanks to Nick and Paul for raising awareness for the North Thurston Education Foundation, and for having fun and being good sports!  We appreciate the support!