We Love Thank You Notes!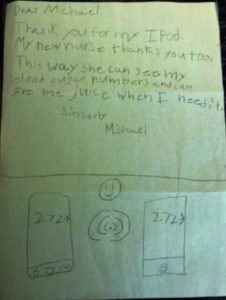 We love receiving thank you notes! Here's one from Michael. Michael has diabetes, and with a Student Assistance Grant, we were able to purchase an iPod for him and his nurse.
Why an iPod? The school nurse uses the iPod to monitor Michael's blood sugar levels and can adjust his levels as needed. This keeps him healthy so he can stay in school.
Student Assistance Grants are just one way North Thurston Education Foundation is helping students achieve academic success.