In Memoriam – Bill Williams
The North Thurston Education Foundation is saddended by the passing of Bill Williams, Paul Stubbins, Ian Edlund and Billie Williams. We are so thankful for their generosity and involvement with NTEF over the years and wish their families peace and comfort.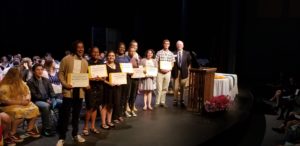 Bill Williams was a long time, dedicated member and generous supporter of the North Thurston Education Foundation. Throughout his nine years on the board, Bill was integral in expanding the mission and outreach of the foundation. He graciously served NTEF in many capacities—as Treasurer, on the Executive Committee, with the Investment Committee, co-chairing the Scholarship Committee and drafting our scholarship agreements.
Bill worked tirelessly behind the scenes in our community to strengthen the mission and organization of our foundation, to educate others about our important work, as a trusted liaison with potential donors, and as a strong advocate for students in our community—especially students in need. At board meetings and in our community, he was the voice of reason with a keen vision of how most effectively to support the students in the North Thurston Public Schools.
His invaluable skills, wise counsel, kind heart, and genuine concern for others will truly be missed, not only by the North Thurston Education Foundation, but also by everyone touched by our important work.  Bill Williams compassionately and selflessly embodied our motto, "It's for the kids."