From Police Chief to Dog Fosterer: Meet North Thurston Education Foundation's Newest Board Member, Robert Almada!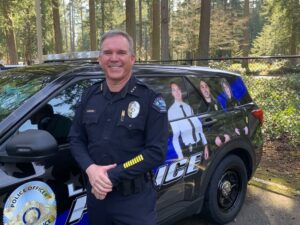 Meet Robert Almada, one of the newest board members of the North Thurston Education Foundation. We had the pleasure of sitting down with him to learn more about what brought him to the foundation and what he enjoys doing when he's not working or volunteering. Robert is the Chief of Police for the Lacey Police Department.
Robert first became involved with the foundation by attending fundraisers and wanting to become more involved in helping to achieve the foundation's goals. As a board member, he enjoys seeing the positive lifelong impacts of the foundation on the youth of the community and feels humbled to be allowed to help in this work.
When he's not working or volunteering, Robert and his wife enjoy fostering dogs from Joint Animal Services while they undergo medical treatment and as preparation for their forever homes. Talk about making a positive impact in all areas of his life!
When asked about how the community can best support the work of the foundation, Robert notes that the community has already been generous through their contributions of time, talent, and treasure. However, he hopes that the community will continue to make the work of the foundation a priority so that they can expand their outreach and assistance to meet the growing needs for food, clothing, shelter, and learning opportunities among the community's youth.
We are thrilled to have Robert as a board member and grateful for his dedication to the foundation and the community. Thank you, Robert!