There's Still Time to Join Us for Our Annual Luncheon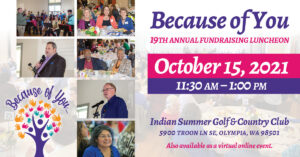 Join us for the 19th Annual "Because of You" Fundraising Luncheon on Friday, October 15, at 11:30 a.m. at Indian Summer. The event will also be available as a virtual online event.
The lunch is complimentary, but we request that all guests register. A $100 minimum donation is encouraged. Donations raised at the luncheon will help our district's neediest kids and their families, fund the Foundation's scholarship program and support our teachers with Learning Improvement Grants.
There are both sponsorship and volunteer opportunities available. Please get in touch with Mike Jones at (360) 790-6548 or [email protected].