Thank you to Brenda McAferty, McKinney Vento & Foster Care Liaison with North Thurston Public Schools for Your Support of North Thurston Students!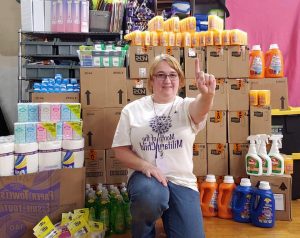 "I am writing to share our appreciation for the amazing support North Thurston Education Foundation (NTEF) has provided to students in North Thurston Public Schools. Currently there are over 750 students who qualify for services under the McKinney Vento Homeless Assistance Act, due to housing instability and homelessness. Additionally, there are countless more families who have access to housing, but struggle on a daily basis to provide the most basic needs for their children.
When our community began to feel the effects of COVID-19, and schools were suddenly closed, NTEF stepped up immediately, and asked what was needed to support our students. During this unprecedented time, families who have never experienced financial struggles in the past, suddenly find themselves without a job. They are not only struggling to keep food on the table, but unable to pay their rent or mortgages. The Family & Youth Resource (FYR) Center, with the financial help from NTEF and donations from the community, has been able to provide food, hygiene kits, household items, and fuel cards to over 100 families per week through our drive-thru program. None of this would be possible without the generous support of NTEF." ~Brenda McAferty, NTPS McKinney Vento Student Navigator and Foster Care Liaison 
Thanks Brenda for the kind words, and all of your hard work for students in our district!