Scholarship Applications Due May 1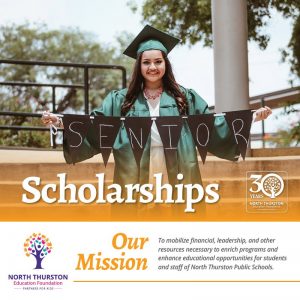 Because schools will not be reopening this spring, scholarship applications must be submitted by mail to the North Thurston Education Foundation, PO Box 3312, Lacey, WA. 98509. Applications must be postmarked by no later than Friday, May 1, 2020.
For transcripts, please contact:
Ms. Stepherson at River Ridge ([email protected]),
Ms. Boesenberg at Timberline ([email protected]),
Ms. Ponzoha at North Thurston ([email protected]),
Mr. Lunde at South Sound ([email protected]).
They will submit your transcripts directly to the Foundation. Please be sure that all other documents are included with your application and remember that applications postmarked after May 1, 2020, will not be accepted.
Please visit https://ntef.org/scholarships/ for the application form.
Thank you!