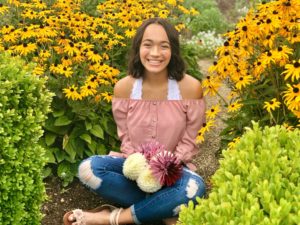 "I'm an expert at math, but writing is not my strong suit," so the essay portion of the scholarship application was a little challenging for me," says Madison Vu, 2020 graduate of North Thurston High School. "But thankfully I had Ms. Ponzoha, the Career Center Specialist, to help. She was the one who recommended I apply for the scholarship."
Madison is the recipient of the John Gott Educational Scholarship. The one-year scholarship provides $1,000 with potential renewals of $1,000 for three additional years (for a total of $4,000) upon evidence of continuing academic success. It was established in honor of Dr. John Gott, former Superintendent of North Thurston School District upon his retirement in 1991 and is intended to support the education of a graduating senior who is pursuing a career in education.
"I love math and want to help young people find the joy in learning, particularly in a subject that some find challenging," says Madison. "This scholarship is going to help offset the costs of living on campus, which I'm excited about because it will give me the true college experience."
Madison plans to attend St. Martin's University full time in the fall and live on campus. Congratulations Madison and best wishes for a bright future!