Because of YOU!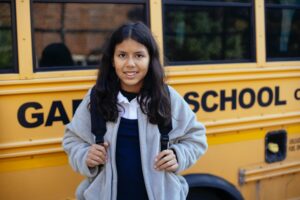 "We currently have over 425 homeless youth in our district which includes 95 unaccompanied homeless youth. As you can imagine, there are varying needs for the students we work with; some simply need a warm coat and a good pair of shoes, while others are struggling to keep from losing their housing. North Thurston Education Foundation has been able assist in a wide variety of ways since the start of the new school year. Recently we had a family who has struggled with homelessness for years, and because of the support of NTEF, this single parent of three young children was able to get into stable housing for the first time in over 9 years. She was in tears as she shared how excited she was to finally have a home for her children.
NTEF has also been busy helping with fuel cards for families in our district. We are currently in a bus driver crisis across the country, so it has been difficult to set up school transportation for many of our students who are highly mobile (moving from place to place.) Fortunately, have been able to provide them with fuel cards to help with transporting their children while we work to get a bus set up.
Some additional supports the foundation has been able to assist with were a booster seat for a preschooler whose parent couldn't afford one so the child was riding is a regular seatbelt, a sports physical for an unaccompanied homeless youth who yearned to participate in a school sport, but couldn't until a physical exam was completed, purchasing books for another unaccompanied homeless youth who is participating in SPSCC Running Start, and an Uber for a parent who doesn't have a vehicle to be able to pick their sick child up from school.
These are only a few of the many, many supports that NTEF provides for our students and their families. We are so fortunate to have the amazing partnership with NTEF!"
Signed,
Brenda McAferty
McKinney Vento & Foster Care Liaison
North Thurston Public Schools