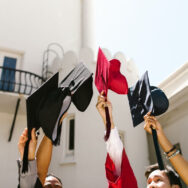 Lacey, WA – June 8, 2022 – The North Thurston Education Foundation has awarded scholarships with a total value of $153,500 to 38 graduating seniors from North Thurston Public Schools.
"We are delighted to award scholarships to 38 of our graduating NTPS seniors. Our selection process was very competitive this year due to the high quality of our student applications. These students, who spent most of their final two years of high school learning online, are articulate, strong, and resilient. It is an honor to support them as they take their next steps in life. We are thankful to our gracious donors who support the North Thurston Education Foundation Scholarship program. Due to their generosity, NTEF offered several newly named scholarships this year. We appreciate the kindness of this community and their support of our students and schools, " said Beth Utto-Galarneau, Scholarship Chair.
Scholarships awarded range from $2,000 to $14,000. The NTEF Scholarship Committee evaluated applications on several factors, including academic achievement, school and community activities, references, quality of the required essay and financial need.
The following graduating seniors received this year's awards:
Named Scholarships: The scholarship program includes designated named endowed scholarships and Foundation-funded scholarships.
In 2022, 18 named scholarships were awarded to the following students:
Alex Ward Memorial Scholarship – James Fowler – North Thurston
Bill Williams Memorial Scholarship – Ahna Rader – Timberline
Charles E. Callahan Education Scholarship – Parker Bird – Timberline
Colton Thorstrom Smith Scholarship – Kaelin Green – River Ridge
Lisa Corwin Memorial Scholarship – Destinee Robertson – Timberline
Davies Vocational-Technical Scholarship – Yasmine Avelar – Timberline
Frank Parker Memorial Scholarship – Bebe Simone Hart – Timberline
Friends and Family Scholarship – Kaydence Garcia (Doublerunner) – Timberline
James Koval Memorial Scholarship – Kayla Ackerson – Timberline
Jeannette Hostetter Ford Memorial Scholarship – Benito Dres – Timberline
John Gott Education Scholarship – Andi Trumbel – Timberline
Roy Pedersen Memorial Scholarship – Abigail Joseph – River Ridge
Dr. G. Sue Shannon Scholarship – Zoe Miller – River Ridge
Nicholas T. Walker Scholarship – Nicholas Waltermeyer – Timberline
Ethel & Vaughn F. Philpot Scholarship – Amy Pham – Timberline
Rahman Family Scholarship – Jeffrey Lee – North Thurston High School
Craig A. Shanafelt Scholarship – Taylor Dillon – River Ridge
Lewis R. Hawthorne & Edna C. Hawthorne Scholarships –
 Kaelynn Sharp – North Thurston
 Haley Luken – North Thurston
Prayten Mualia – Timberline
Nathan Ramos – Timberline
Foundation Scholarships: $2500 Foundation Scholarships are awarded annually. In 2022, 17 foundation scholarships were awarded to the following students:
North Thurston High School: Samantha Conner, Autumn Apelar, Vinnie Nguyen
River Ridge High School: Caroline Jenkins, Sarah Mercado, Gabriel Cohen, Alan Ly
Timberline High School: Catherine Ewers, Lindsay Crowe, Lilly Collard, Talia Clark, Olivia, Andino, Maia Ayuso-Robles, Callista Lee, Samantha Sarte, Jordan Waltermeyer, Isabella Wilbur
Nineteen of the scholarships are named after individuals in the community and funded by bequests from or donations on behalf of the persons for whom they are named. The remaining scholarships were solely financed by the Foundation's annual fund-raising and by an unrestricted grant from the Dawkins Charitable Trust. To view a list of scholarship establishment history and details, visit: https://ntef.org/special-named-endowed-scholarships/.