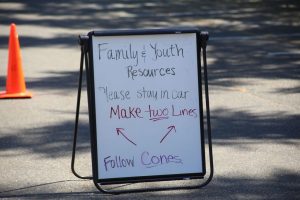 When North Thurston Public Schools  (NTPS) began operating the Family & Youth Resource Center (FYR Center) last August, its leaders and staff had no idea it would become a vital logistical hub for youth and families negatively impacted by the COVID-19 crisis just six months later.
COVID-19 and the economic contraction it triggered have compromised the income security of countless Thurston County families. As parents facing layoffs scramble to cover the cost of housing, food and everyday living supplies, NTPS has worked quickly to organize enhancements to its already robust network of support services. "We're seeing people we've never seen before," says Leslie Van Leishout, director of student support. "These are people that don't know how to navigate support systems because they've never had to."
These resource center pickups are made possible by a cooperative web of local nonprofit organizations. Van Leishout and other district leaders emphasize that the financial support provided by the North Thurston Education Foundation (NTEF) is critical to their work. "We literally could not give out everything we're distributing without the Education Foundation," says Van Leishout. Funds from NTEF are used to supplement the supply of food and necessities donated by other community organizations. This school year so far, NTEF has invested about $36,000 in the work at the FYR Center, including support specifically for homeless youth.
Read the full Thurston Talk article HERE
*Photo Courtesy North Thurston Public Schools